Michael W. Lenert, Partner
Attorney Michael W. Lenert is an experienced litigator who has obtained tremendous results for both injured individuals as well as businesses and government entities. Mr. Lenert practices in the areas of personal injury, medical negligence, workers' compensation, commercial and general litigation.
As a trial attorney, Mike understands that regardless of the nature of the case or the client involved, the only way he can passionately and effectively tell the story of his client is to be knowledgeable of the law and in command of the facts of each case.
"My clients entrust me with the responsibility to be their voice in a time of great difficulty and challenge. This is not a duty that I take lightly. The only way to be a voice of strength and fortitude for my clients is to devote every ounce of my energy into zealously advocating on their behalf and to be painstakingly thorough in the investigation, preparation and trial of each case."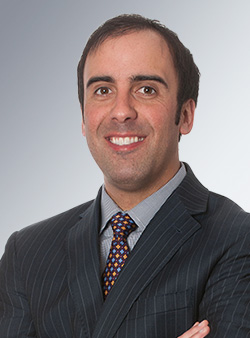 Mr. Lenert received his undergraduate degree cum laude from Marquette University in 2005 and his law degree cum laude from Creighton University School of Law in 2008. He is a member of the Alpha Sigma Nu Jesuit Honor Society and the Order of Omega Honor Society.
Mike is licensed to practice law in the State of Illinois and is admitted to the United States District Court for the Northern District of Illinois. He is a member of the Illinois Trial Lawyers Association (ITLA) where he serves on its Board of Managers, the Illinois State Bar Association, and the Kane County Bar Association. Mr. Lenert has been selected by his peers as both an Illinois Rising Star, a distinction earned by no more than 2.5 percent of the lawyers in the state, and an Illinois Emerging Lawyer, a distinction earned by less than 2 percent of all lawyers in the state under the age of 40. He has been selected as one of the "10 Best" for Client Satisfaction by the American Institute of Personal Injury Attorneys, "Top 40 Lawyer Under 40" by the American Society of Legal Advocates, and was also recognized as the Kane County Bar Association's Outstanding New Lawyer in 2015.
Mr. Lenert has obtained numerous recoveries for his clients of $1 million or more, including:
$5,000,000.00 for 47-year-old Chicago firefighter killed in the line of duty after a commercial building collapse;
$3,600,000.00 for 79 and 81-year-old killed in automobile accident in LaSalle County;
$1,999,999.00 for 44-year-old motorcyclist who suffered fractured ankle, pelvis, and torn knee ligaments after being struck by county-owned vehicle;
$1,450,000.00 for 55 and 57-year-old bicyclists who suffered upper extremity injuries and traumatic brain injury after being struck by vehicle in Kane County;
$1,400,000.00 for lessee of a municipal property after lessee was sued for breach of contract by municipal lessor;
$1,000,000.00 for 22-year-old tow truck driver killed on roadway while attempting to tow a disabled vehicle.
Mr. Lenert is actively involved in the community through his work with several local charities. He was born in Aurora, Illinois and is a lifelong resident of the Fox Valley. He attended grade school at Holy Angels in Aurora and high school at Marmion Academy. Mike and his wife, Katie, reside in Geneva.
---
Feel free to reach out to one of our experienced attorneys with your questions at (630) 491-6277 or schedule a
Free Case Evaluation to find out how we can help with your case.
Schedule Online